[ad_1]

It was another week with a VIX above 30, whipsaw price action in the US indexes and relentless bullishness in crude oil. This is all of course a direct result of the uncertainty created by the volatile situation in Ukraine. 
Before we move onto the situation in Ukraine, let's take a look at what markets did over the week. 
US stocks were essentially unchanged by Thursday, after a week of whipsaw action in reaction to headlines coming out of Ukraine: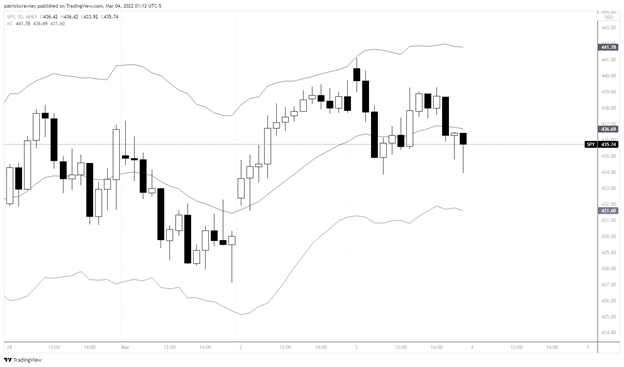 Russian stocks continue to get absolutely clobbered as a result of the tough sanctions NATO allies put on the country, like banning seven Russian banks from SWIFT (although there are carve outs). The Russian ETF (RSX) has declined 77% since February 16. However, the ETF is trading at an over 400% premium to net asset value: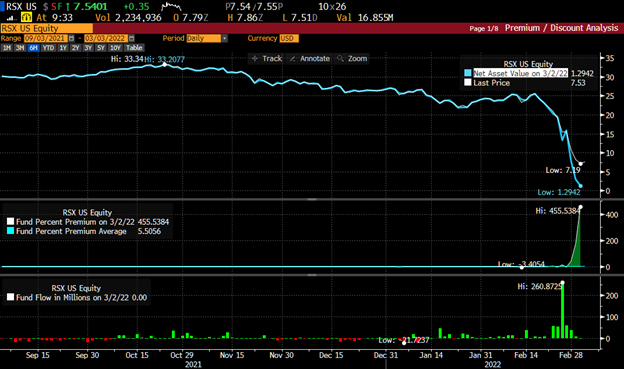 Crude oil reaches 9-year highs as supply worries elevate amid the Russia/Ukraine war. Energy is the one area that NATO countries have hesitated to levy sanctions upon due to Europe's heavy reliance on sourcing oil and gas from Russia. While price estimates from investment banks are hardly worth the paper they're printed on, JP Morgan sees $185 oil if Russia continues to self sanction:
The VIX continues to hang out in the 30s as traders are hesitant to short volatility in fear of headline risk, and investors buy more protection for the same reasons: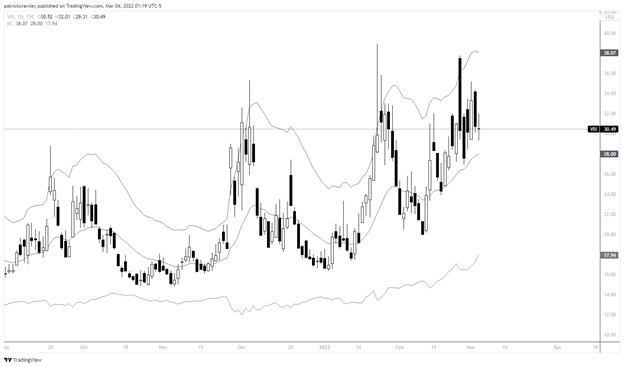 An Update on the Russia/Ukraine Situation
Russia captured one of Ukraine's major cities, Kherson, which is quite significant because it's a port city and Ukraine's loss of this territory essentially cuts them off from the Black Sea and brings them closer to being landlocked by Russia, which is clearly a bad scenario for Ukraine. 
Cutting off the coasts is a key goal for Russia right now, and in pursuit of that, Russia fired shells at a Ukrainian nuclear power plant which also happens to be the largest plant in Europe. There are reports of fires at the plant, and Ukrainian President Zelensky told US President Biden that an explosion at the plant would be "ten times worse than Chernobyl." Later reports indicate that the fires were extinguished, however. 
There are increased calls from NATO-allied nations to get more involved in the conflict, with many calling for a no-fly zone over Ukraine. This measure, of course, would be a significant escalation of tensions between Russia and the West. 
Financial warfare continues underway with index providers FTSE Russell and MSCI cutting Russian equities out from their emerging market indexes because most investors find them "uninvestable." The Moscow Stock Exchange, which lists large Russian companies like Yandex, Sberbank, and Gazprom, has been shut down for a week and isn't expected to open until at least March 4, 2022. 
Many Western companies have made a point to cut ties with Russian companies, like GrubHub halting their partnership with Yandex, for example. 
Earlier this week, US President Biden gave his State of the Union address and said Putin will "pay a price" for the invasion of Ukraine.
Other News
Crypto Drama
Crypto is under the microscope of Western regulators in wake of the Ukraine/Russia conflict. Regulators are worried that Russia will use crypto to evade sanctions. Fed Chair Jerome Powell told the US Senate Banking Committee that he thinks "it really underscores the need to have a strong regulatory regime that permits appropriate activity but that prevents inappropriate activity." 
There's also significant pressure on the big crypto companies like Coinbase and FTX to put more pressure on the Russian financial system. Some have called on them to ban Russian citizens from using the platforms altogether.
Powell at Congress
Fed Chair Jerome Powell testified to the Senate Banking for two days this week and discussed the likelihood of persistent inflation due to high commodity prices. He underlined the point that the Russia/Ukraine war is likely to exacerbate inflation. 
He also discussed the risk of Russia using crypto to get around Western sanctions. 
Powell stuck to his plan to hike interest rates a quarter point at the upcoming Fed meeting.
Ford To Split ICE and EV Divisions
Ford announced on Wednesday that they're planning to split their internal combustion engine (ICE) and electric vehicle (EV) divisions into two, separate businesses. This is all done with the intention of fast-tracking their EV growth. 
Ford CEO Jim Farley told the press that there are no plans for a stock spinoff, however.
Snowflake (SNOW) Hit Hard On Earnings
It's becoming a trend. The hottest growth stocks of the pandemic are getting hit hard by disappointing growth and weak guidance. The story is the same with Snowflake (SNOW), a data warehousing firm. We experienced the same phenomenon last month with DraftKings (DKNG) and Roku (ROKU). 
The stock dropped about 16% on the day.
ADP Jobs Report: Positive Growth
The ADP jobs report came out this week with an above-consensus in job growth, primarily in the service sector. However, labor shortages are still a pain point for hirers, and small businesses were especially hurt as they're less able to keep pace with wage growth. 
Target (TGT) Had a Strong Holiday Season
The red big box store reported strong comparable sales this Q4, rising 20% compared to the same quarter last year. This is a furtherance in the trend of "real economy" stocks finally getting their due compared to the long-duration growth stocks like SNOW which are suffering. 
Earnings This Week
Monday, March 7, 2022

Tuesday, March 8, 2022

Dicks Sporting Goods (DKS)

Petco (WOOF)

Bumble (BMBL)

Cricut (CRCT)

FIGS, inc (FIGS)

MongoDB (MDB)

Stitchfix (SFIX)

SumuLogic (SUMO)

Wednesday, March 9, 2022

Oatly (OTLY)

Asana (ASAN)

Crowdstrike (CRWD)

Oracle (ORCL)

Thursday, March 10, 2022

Dream Finders Homes (DFH)

First Majestic Silver (AG)

com (JD)

Blink Charging (BLNK)

Docusign (DOCU)

Legalzoom (LZ)

National Beverage (FIZZ)

Poshmark (POSH)

Red Robin (RRGB)

Rivian (RIVN)

Ulta (ULTA)
Economic Data This Week
CPI is the big number coming this week. Hotter than expected inflation will put further pressure on the Federal Reserve to be more aggressive in their rate hike schedule. The completely unscientific consensus among the smart traders and investors I follow on Twitter is that CPI will come in around 8%, and this is very likely to cause the Fed to sweat. 
Schwab's Liz Ann Sonders recently shared this graphic of what she called the "Misery Index 2.0," a combination of CPI and the average 30-year mortgage rate, which recently hit it's highest level since the Great Financial Crisis: 
We also get the regular installment of unemployment data next week, watch out for that following the positive ADP jobs report.
[ad_2]